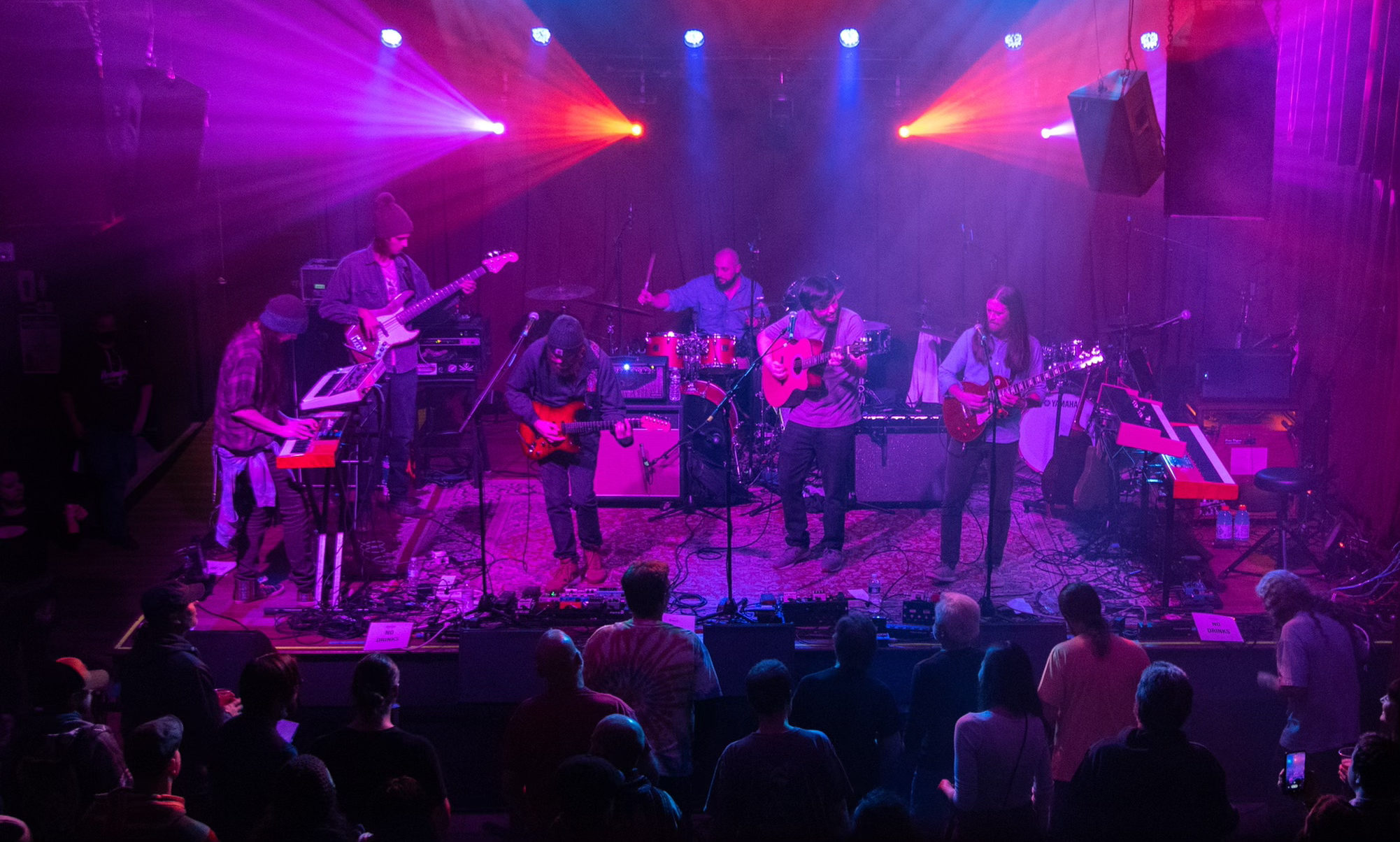 Muskrat Flats is an Americana jam band that has achieved rapid success and recognition as their distinct sound fuses an array of genres spanning funk, jazz, rock, bluegrass, folk and electronic.
With abundant passion, talent and an unforgettable live show aura, the Muskrat Flats create a musical journey filled with original material, some of which is featured in their debut album Field of Rays. Their live shows and sound are influenced by the pillars of the live music scene such as The Allman Brothers, Grateful Dead, Phish, String Cheese Incident and The Disco Biscuits.
Muskrat Flats is:
Paddy McCann (Rhythm Guitar, Vocals)
JP Florio (Lead Guitar, Vocals)
Isaac Gaston (Bass Guitar)
Matty McCann (Lead Guitar, Vocals)
Drew Gerace (Drums)
…and their BIOs:
Paddy McCann – For over 20 years, PY has be crafting his unique style of writing and guitar playing along side his brother and bandmate Matthew. His vast knowledge of the world of music has informed so much of Muskrat Flats landscape. Behind the computer, PY engineers for the band as well as House music for his solo project PY McCann. Paddy's accomplished background includes performances at World Cafe Live, Milkboy, Sprout Music Collective, 118 North, Kung Fu Necktie, The Fire and The Boom Room.
JP Florio – Picking up the guitar at the age of 10 years old, JP has been playing in bands since he was in middle school. Experimenting early on in projects ranging from indie-punk to ambient metalcore, his musical tastes have evolved over the years into a much more classic sound. Upon discovering the beautiful music of the Grateful Dead and the improvisational approach they set into motion, he has been enamored with jam bands and the fun-loving spirit that makes live music so extraordinary. JP has risen to recognition as a top regional guitarist, having previously shared the stage with Magic Beans, Litz, Tweed, Catullus, The Clock Reads, Dogs In A Pile, Pine Travelers and The Reality at regional venues including The Trocadero Theater, The Festival Pier At Penn's Landing, The Boom Room, Silk City Diner and Bourbon & Branch.
Isaac Gaston – Born in a household filled with classical music, Isaac picked up the cello at a young age only too soon after realize his calling to bass when entering college. Studying everything he can get his fingers under from jazz to electromagnetic funk, he is always searching for the newest, stealthy sound to experiment with and introduce you to on stage. An intuitive and highly regarded bassist, Isaac has share the stage with many venerated regional bands including Space Bacon, The Fritz, Catullus, Cycles, Tweed, Solar Circuit.
Matty McCann – Matty has been bringing the energy and taking the crowd to a new level for over twenty five years. Performing live, in-studio, teaching, consulting and composing is the name of the game here. Matty has released 5 albums over the years with multiple acts such as Easy Four, Coal Mine Canaries and John Sterling. Those music releases include his 2017 single Sweet Amalia and the Muskrat Flats 2018 album Field of Rays. He has shared the stage with acts such as Flux Capacitor, Happy Dog, Catullus, Solar Circuit, Dean and Co, Dead Friends and more. And he has played in venues such as World Cafe Live, 118 North, Sprout Music Collective, Kung Fu Necktie, Triumph Brewery and Milkboy.
Currently, the Muskrat Flats are recording the 2nd studio album. Meanwhile, they will touring and playing shows on across the United States.